See also: List of Warcraft elements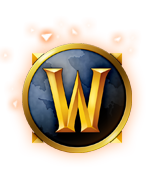 Warcraft is a major Blizzard Entertainment franchise, and one of those represented in Heroes of the Storm.
Background
Warcraft is a high fantasy setting, revolving primarily around a conflict between two factions, the Alliance and Horde. The primary races of these two factions are humans and orcs respectively, and in the first game of the series (Orcs and Humans, released in 1994), they were the only playable species. The scope and breadth of the setting (primarily on a world called Azeroth) has increased over time however, and while many races encompass the above factions, many more are independent or within factions of their own.
Originally the Warcraft series was real-time strategy. It was through its third core installment (Reign of Chaos) and its expansion (The Frozen Throne) that the original Defense of the Ancients mod was created, which popularized the hero brawler genre. With the coming of World of Warcraft however, the series has become a MMORPG setting, with numerous expansions and patches released for its core game. Spin-offs include the Hearthstone digital card game, and numerous novels, comics, and other forms of expanded universe material.
Multiverse
There seems to exist a version of the Warcraft universe within the Nexus. A number of heroes from other franchises are from here.
Notes
In Heroes of the Storm, Warcraft possesses, and will continue to possess, the majority of heroes due to the size of its setting when compared to Blizzard's other franchises.[3] Kent-Erik Hagman has commented that Warcraft is, and always has been, one of Blizzard's most popular universes, and it would thus be a fallacy to assume universe-parity in regards to hero representation.[4]
The castles of the Warcraft setting harken to a Medieval style, as opposed to the fairy-tale style of Dragon Shire.[6]
References
External links
See WoWWiki for more lore on elements and heroes from the Warcraft franchise