A tutorial exists for Heroes of the Storm, designed to help players through the basics of gameplay, from movement to tactics. After the completion of the tutorial, Daily Quests are unlocked.[1] The Tutorial is split into two categories: Tutorial and Battleground Training.
The Tutorial covers the basics of how to play Heroes of the Storm, including combat, team leveling, Talents, and Mercenary camps.
Battleground Training acquaints players with the importance of Battleground Objectives.
Players can now play through the Tutorial and Battleground Training using three different Heroes: Jaina, Muradin, and Tyrande.
New players will be able add one of these three Heroes to their Hero Collections for free.
Players can revisit the Tutorials or Challenges at any time by opening the Main Menu (ESC) and clicking the Tutorials or Challenges buttons.
Development
Veteran Tutorial
The Veteran tutorial was accessed through the "Challenges" button in the options menu or by selecting "Veteran" when first entering the game on a new account.
Gold rewards for the Basic Tutorials and Veteran Challenges were shared, and players were eligible for a total of 1,000 gold for completing one or both of these game modes.
Muradin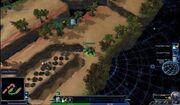 In the April, 2012 version of the game, Muradin took part in the tutorial. A different tileset and setting was used.[2]
Patch changes
References