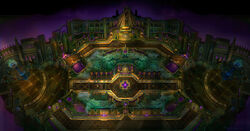 The Tomb of the Spider Queen is a battleground in Heroes of the Storm.[1] The tomb's grand halls and labyrinthine passages speak to a vast cavernous under-city which features regal structures, moody lighting, and a host of creepy corners… and spiders.[2] Great riches lie within the tomb.[3]
Battleground Tips
The map is the smallest battleground in the game, with the lanes located very close together.[4] 3 lanes exist in the map.[5] It is a dark and moody interior space where players destroy enemy minions to claim the gems they drop. Turning these gems in will summon a powerful wave of Webweavers to attack the team's enemies. Players drop any gems they're carrying when they die, but while their enemies can't pick them up, savvy opponents may deny their teammates the opportunity of retrieving them.[6] The gems will disappear after a certain time limit if not picked up.[3]
Spiders appear as minions in the map.[7]
Notes
The temple shows bi-pedal jackal statues.[7] The jackal was the representation of Anubis, the god of death in Egyptian mythology.
Media
Images
Videos
Patch changes
References