"Raven Court is a mysterious shadowy realm. It seems to be controlled by the
Raven Lord
, who is one of the oldest and most powerful rulers within these lands."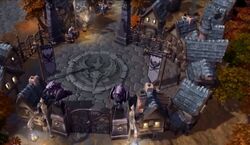 Raven Court (or the Raven Courts)[1]) is one of the realms of the Nexus.
Background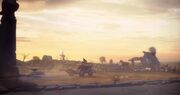 Raven Court is a mysterious, shadowy realm.[2] Uther is the last line of defense in the realm against Diablo and his forces.[3] The Court is set outside King's Crest, and is generally grim, ruled over by the Raven Lord.[1] A mercenary order known as the Black Knights have defended the realm for time immemorial.[4]
The citizens are not as well off as their Dragon Shire counterparts, and are composed of peasants and farmhands, the Raven Lord's sun beating down mercilessly on them. The siege giants of the realm are also poor off, and are lucky just to find a bag of rocks. Vampires are also found in the realm,[5] one of which was Countess von Kerrigan, whose bloodthirst knew no bounds. It was only a matter of time before the Vampire Slayers rose up against her reign of terror.[6] Which, they did. However, her thirst for blood could not be quenched even by her death. As the vampire swarm spread across Raven Court, a group of survivors rose up to resist them.[7]
Heroes
A number of multiverse versions of Heroes are from here.
Notes
The court is the setting for the game's tutorial.
Images
See Also
References