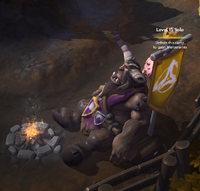 There are mercenary camps in each battleground; subdue the mercenaries there and they'll fight on your side and push toward the enemy base. Some heroes can also bribe mercenaries to fight for their team, without having to subdue the mercenaries.
Each mercenary camp has a flag above it denoting the level required to either solo the camp or attack it with a group. Mercenary camps spawn 60 seconds after the game begins.
It is recommended that mercenaries are supported by heroes.[1]
Mercenary Types
Knights - powerful, themed to location, strong melee bruisers for front-line combat
Siege giant - big and lumbering, themed to location, standard merc across all battlegrounds, long-range attacks, great for attacking fortifications
Patch changes
References