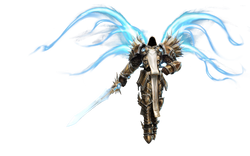 Matchmaking Rating (also known as "MMR") is a number calculated for each player to match them with players of similar skill.
The intent behind MMR is to match players by skill. This is accomplished by comparing an assigned number (MMR) that adjusts based on the relative MMR of the opponents players win or lose to. Matching players by their effectiveness or performance helps make sure that less experienced players aren't always playing against expert players, and that competitors at all levels are earning their victories by battling players of roughly equivalent ability.
Unranked Draft Mode and Hero League use a player's Quick Match MMR as a guideline for players first entering these queues. Similarly, Team League uses an average of all players' Hero League MMRs as a guideline to determine how new teams will be matched. After Season One, the system will use Unranked Draft instead of Quick Match MMR as the guideline to determine a player's initial Hero League matches.[1]
Uncertainty Boost
Players will receive a boost to their uncertainty rating during Season One placement matches.
Uncertainty represents how confident the system is in knowing that players belong at their current rank or rating. Boosting uncertainty allows for significant adjustments to be made to MMR during placement matches.
New Players
New Heroes of the Storm players who enter matchmaking modes will initially only be matched for games on certain Battlegrounds. As they complete more games, new players will unlock additional Battlegrounds as follows:
2017 update
The matchmaking system was updated to include a performance-based data-driven system, which takes individual player performance into account when determining MMR gains and losses. Under this new system, players will now reach their intended Matchmaking Rating quicker and more accurately.
Patch changes
 (Patch June 14, 2016) Note: MMRs have been normalized to bring in outliers on both the high and low end of the MMR spectrum.
References