'Heroes of the Storm' - Malthael Spotlight
Play Sound

This is from the
Diablo
universe.
| | | |
| --- | --- | --- |
| " | You may find Death a stern teacher. | " |

(7/10)
(4/10)

(6/10)

(6/10)

Malthael is a Melee Assassin Hero from the Diablo universe.
Once the Aspect of Wisdom, Malthael abandoned heaven after the Worldstone's destruction in seach of meaning of life. In secret, he had resolved to end the Eternal Conflict by becoming a Reaper of Souls and eliminating everything affected by demonic corruption, including humanity.
Background
Malthael discovered a whirling vortex of human souls within the heart of Pendemonium Fortress, where the great Worldstone once rested. He transformed this into a Soul Prison and harnessed the spirits' energy to become the Archangel Angel and Aspect of Death. With the Lords of Hell defeated, he reasoned that humanity was the most powerful "demonic" force left now, as per their ancient nephalem heritage. With humanity's eradication, Heaven would stand alone, victorious in the Great Conflict.[1]
Gameplay Summary
Malthael is an Assassin with innate high sustain, who can deal high health percentage damage to his enemies, thanks to his trait, Reaper's Mark; this makes him a potent "tank-buster", since Warriors will take increased damage due their larger healthpool. However, he can still deal respectable damage even to Heroes with lower health.
Overall, Malthael excels against comps featuring Double Warriors and/or other Heroes with high healthpool (such as Nazeebo and Azmodan). He can deal absurds amounts of damage under the right circumstances.
Strengths
Unrivaled self-sustain with

Soul Rip

.
Incredibly high sustained damage against Heroes.
Powerful PvE damage, making him great at taking down bosses.
Strong duelist, capable of easily winning 1v1 and even 2v1 situations.
Can stick to enemies at ease, especially against those with poor mobility.

Death Shroud

is great for checking bushes and covering tight areas.

Tormented Souls

can change the tide of a team fight under the right circumstances.

Last Rites

is great at executing key-targets. It also naturally has a repeatable quest that allows to reduce its cooldown permanently.
Weaknesses
Limited escape tools.
Easy to kite and avoid.
Very limited burst damage.
Poor sieging.

Soul Rip

and

Wraith Strike

cannot be used unless there are enemies affected by

Reaper's Mark

.

Death Shroud

moves very slowly, being predictable and easy to avoid.
Doesn't offer much utility aside from raw damage, requiring the team to draft more versatile Heroes to cover other areas.
Abilities
Traits
Heroic Abilities
Talents
Talent Builds
Tips
Matchups
Pairings
Effective against
Effective foes
Skins
Aspect of Death (base)
| | | | |
| --- | --- | --- | --- |
| | | | |
| Aspect of Death | Tarnished | Toxic | Spectral  100 |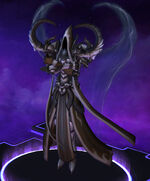 Platinum

 100
Grave Warden  100

With every corpse interred in his mausoleum, the Grave Warden gains power and influence. His unholy alliance with the Grave Keeper ensures that his collection of souls will continue to grow.
This skin is related to the Raven Court themed-skins.
| | | | |
| --- | --- | --- | --- |
| | | | |
| Grave Warden | Crimson | Timelost | Angelic |
Season's Reapings  150

Also known as the Ghost of Winter Veil Yet-to-Come, Malthael offers those he visits in the cold dark night a glimpse of their future. Unsurprisingly, their "future" is always death.
This skin is related to the Winter Veil themed-skins.
| | | |
| --- | --- | --- |
| | | |
| Season's Reapings | Chilling | Coal |
| | |
| --- | --- |
| | |
| Hallowed | Plum |
Patch changes
References