Kel'Thuzad Spotlight – 'Heroes of the Storm'
Play Sound

This is from the
Warcraft
universe.
| | | |
| --- | --- | --- |
| " | Kneel before Kel'Thuzad! | " |
Kel'Thuzad is a Ranged Assassin Hero from the Warcraft franchise.[1]
Background
Kel'Thuzad has faithfully served the Lich King both in life and after death. Reanimated as the Archlich of the Scourge and given domain of the Dread Necropolis, Naxxramas, Kel'Thuzad remains Arthas's most trusted advisor and master of the cold dark.
Archlich of Naxxramas, esteemed Lich Lord of the Plaguelands, Commander of the Dread Necropolis, Master and Founder of the Cult of the Damned, formerly of the Council of Six, Creator of the Abomination, Summoner of Archimonde the Defiler, Betrayer of Humanity, Hearthstone Enthusiast, and Majordomo to the Lich King, Kel'Thuzad.
Gameplay Summary
Kel'Thuzad is an Assassin with a gameplay that revolves around "combo abilities", in the same vein as characters like Kerrigan, Alarak and Kael'thas. He is capable of inflicting plenty of roots, slows and stun effects, as most of his abilities feature at least one form of crowd control.
His Trait, Master of the Cold Dark, grants him a massive powerspike once completed, allowing him to snowball the match if the quest is completed earlier. This makes Kel'Thuzad particularly valuable at participating in skirmishes, allowing him to complete the quest as soon as possible.
Overall, Kel'Thuzad fits in most team compositions, but excels in those with additional crowd control abilities that can synergize or complement his own, allowing him to unleash his true power.
Strengths
Capable of setting up powerful crowd control chains.
Powerful burst damage through his ability combos.
Fits into most team composition, being able to adjusts his talents accordingly.

Master of the Cold Dark

allows Kel'Thuzad to increase his power, and snowball the match once the quest is completed.

Death and Decay

has extremely low cost and cooldown, being a versatile tool for waveclearing, poking and follow-up damage.

Frost Nova

can secure takedowns if used properly, combining damage and utility.

Chains of Kel'Thuzad

is a versatile, yet complex ability, that is the basis of Kel'Thuzad combos, capable of pulling enemies towards structures or each other.

Frost Blast

's explosions covers a large radius, and can incapacitate an entire group when well timed.

Shadow Fissure

is a very versatile Heroic Ability, as it has global range, very low cooldown, deals high damage, and is a powerful follow-up to Kel'Thuzad other abilities.
Weaknesses
High skill ceiling, being difficult to master.
Requires proper setup to deal effective damage.
Most of his abilities have a delay before being cast, meaning the player must plan ahead so his enemies don't escape.
Awful durability (even supports with low damage, like Lt. Morales and Rehgar can kill him).
All his abilities (except for

Frost Blast

) are skillshots.
Vulnerable to dives and Melee Assassins, especially given his limited options for defensive talents.
Lacks self-peeling abilities to repel sticky opponents.
Not very efficient at solo laning.
Cannot deal well against opponents with high mobility, such as Tracer, that can easily dodge his skillshots.

Frost Blast

can be completely negated by specific abilities, such as

Crystal Aegis

or

Ice Block

.
Abilities
Traits
Heroic Abilities
Talents
Talent Builds
Tips
Matchups
Pairings
Kel'Thuzad is at his best when paired with any Hero that can setup and/or follow-up his ability combos; such as those with reliable crowd control abilities. This makes completing Master of the Cold Dark much faster. Most Warriors work very well with Kel'Thuzad, as they are often packed with a kit focused on crowd control and very needed peel for Kel'Thuzad, as his low health and lack of escape makes him an easy target.
Effective against
While Kel'Thuzad becomes a threat to the entire enemy team once Master of the Cold Dark, he can be even more dangerous when capitalizing on Heroes with poor mobility and/or lack of spell damage mitigation. He also excels when fighting opponents that can summon clones, as they can "feed" him stacks of his trait, and become targets for Chains of Kel'Thuzad.
Effective foes
Kel'Thuzad's greatest weakness is the fact nearly all his abilities (except for Frost Blast) are skillshots that require pinpoint accuracy. Therefore, he performs poorly against Heroes with high mobility that can easily dodge his Abilities. Also, Kel'Thuzad's low health and lack of escape and self-peel makes him an easy target to gankers and divers, particularly Stealth-based Heroes.
Skins
Archlich of Naxxramas (base)
| | | | |
| --- | --- | --- | --- |
| | | | |
| Archlich of Naxxramas | Northrend | Scourge | Blightlord  150 |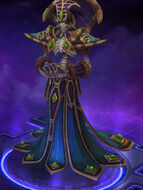 Naxxramas Kel'Thuzad

 150
Star Lich  600

What the heroes of this pitiful blue marble fail to understand is the Earth's fate cannot be delayed forever. In the end, the stars will fade and die, and in the cold dark... Our empire is eternal.
This skin is related to the Eternal Empire themed-skins. Features altered voice-over and themed abilities.
| | | | |
| --- | --- | --- | --- |
| | | | |
| Star Lich | Eternal | Frost | Hunter |
Neutron
Development
Kel'Thuzad was under consideration for inclusion as early as 2011.[2] He was reguarly the most requested hero from players in censuses undertaken by Blizzard Entertainment.[3] His model was previewed at BlizzCon 2014.[1] Work began on him in January 2017.[4] The "paper design" phase ended on January 30, ahead of schedule.[5]
Kel'Thuzad's abilities are themed around frost and shadow magic, rather than necromancy.[4]
Trivia
Similarly to Leoric's "Space Lord" skin, Kel'Thuzad's Star Lich skin is a satire to Darth Sidious from Star Wars. This is evident with the different voice lines that makes analogy to the series.
Patch changes
References
External links