"A dark, destructive force threatens the
Gardens of Hope
, creatures made of equal parts mayhem and destruction. Harness their devastating might, or fall at the hands of the Punishers."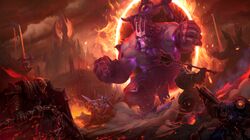 Infernal Shrines is a three-lane Diablo-themed battleground featuring three shrines that will periodically gather power. The first will activate 3 minutes into the match, following a 30-second warning. The first Shrine indicator will appear on the Minimap 30 seconds after the game begins, and subsequent indicators will appear 30 seconds after a Punisher is defeated. Hover the cursor over a Shrine indicator on the Minimap to display whether it will be a Mortar, Frost, or Arcane Shrine.
Teams can unleash this power by activating a shrine, defeating its guardians, and summoning a devastating Punisher to fight for them. These powerful bosses will spawn with one of three deadly affixes—Arcane, Frozen, or Mortar— and will hunt down nearby enemy heroes as well as pushing the lane closest to their shrine.[1]
Media
Images
Videos
Patch changes
References