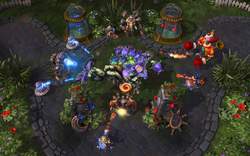 Heroes Brawl takes the current iteration of Heroes of the Storm and turns it on its head in a special mode that applies a different set of rules and conditions each week. Provided players participate in at least two (rarely three) matches per week they will be rewarded with a Loot Chest and hero experience. If multiple heroes are used, the experience will be divided equally among them.
Length of play time will vary depending on the brawl, ranging anywhere from a quick four-minute match to almost 20 minutes.
AFK detection is present in Heroes Brawl. Players who become inactive during a Brawl will be disconnected from the match.
Maps
Brawl maps fall into one of three categories:
Media
Images
Videos
Patch changes